All dog owners have something in common – they know if fido doesn't get his energy out he will be a terror to have in the house. That is where the wonderful invention of a dog run comes into play.
What is a Dog Run?
A Dog Run is a miniature fenced in the area designed to be a play area. If you have even been to a Dog Park, you have seen a Dog Run. The fence within a fenced area is the dog run. Perfectly shaped to give a dog room to run around and play. The main perk is you can leave toys or obstacles inside the dog run and let your furry buddy play all day. The Dog Run has a huge advantage over just a regular fence.
A dog run is usually very tall, cheaper than fencing an entire yard and often has a ceiling or roof preventing your dog from jumping out. Some dog runs even have a floor to stop your dog from digging his or her way out. The last benefit is that some dog runs even have covers, so even on rainy days your dog can play. Everything about a dog run is perfect for your best friend.
Size Matters!
Get your mind out of the gutter – although size does matter. For dog runs, one that is too small will be uncomfortable for your furry friend. If you're keeping your pup locked away in an area that's too small, it can be considered cruelty, especially if left outside for extended periods of time. There are requirements from the Human Society in the United States that state how large a dog run should be.
The average run should be:
3 feet by 10 feet long

The height should be 6 feet
If your dog is over 100 pounds, the width should be increased by one foot. While dogs that are over 200 pounds aren't typical but exist, you should increase by another foot if they appear to be over this number on the scale.
Not pleased with these figures? Another way of determining the best size run for your pooch is to multiply their length by 5. There are laws to abide by when it comes to the scale of a dog run, and it should fit within the regulations of the Animal Welfare Act.
If the space you give them does not allow them to sit, stand, lie comfortably, and walk in a normal way, then your space is not big enough for them. They should be allowed exercise and to rest comfortably accordingly to the regulations given by the humane society.
Materials Matter, Too
Size matters, but materials matter even more. Most dog runs are created with chain link fencing to ensure stability for even the biggest and most abrasive dogs. You should rarely use wood as a fence for your dog run, as they can chew through. The fence may also become a victim of termites or wood rot. Dogs are also known to "tear" at wood fencing, which will make your wood fence eventually useless and broken.
First Timer Warranty Importance
The importance of assurance is critical for first-time dog run owners. If you know your pup is a bit on the crazier side, a guarantee is essential, as you can replace it if it proves not to be a match for your fur baby. Dog runs can be expensive, depending on the size, and having a security blanket for you both to fall on is pivotal in money management and safety.
The Ease of Installation
After you've chosen which material you're going to use or which dog run you're going to purchase, it's important to know that dog runs are quite easy to install but may need further instruction. The bottom line is that there must be a counterweight holding the poles or fencing in line so that your pup doesn't escape. The method of counterweighing depends entirely on the dog run for sale purchased.
Choosing the Perfect Dog Run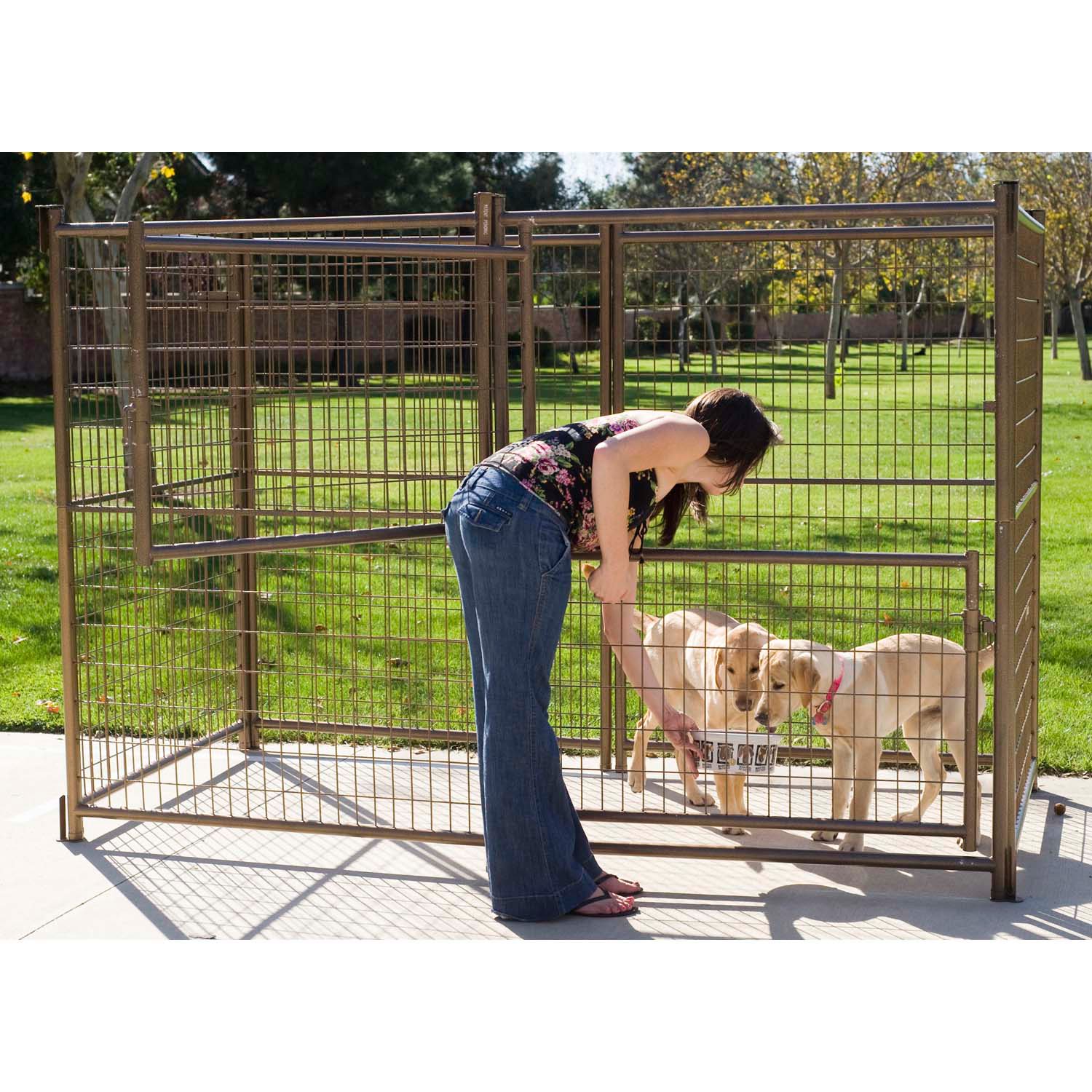 Much like a life size gazebo, the Advantek that's the angular "modular" shape and scales it down for puppy use. Aesthetically pleasing in comparison with cheaper looking dog kennels, the Advantek poses many benefits with their features.
Top features include:
Raised roof

Modular design

Low profile, so it's not overwhelming with yard decor

No tools required

Weather-resistant cover
The main advantage of having a modular design allows you to purchase other modular components from the same set to make a larger, connected kennel run. The connective field lets you have multiple pups in the same area without making them uncomfortable. Unfortunately, there is no warranty on this item.
The cover on top is angled not only for appealing appearance but the ease of cleaning. Water or staining liquids can roll off easier instead of becoming caught up on top of the kennel roof. The durable weather resistant material that it's composed of gives it double the durability. If you think that's great, the metal has a rust resistant coating for use in any environment.
The measurements of one octagon kennel are 5' length x 5' width x 5' height and require no tools whatsoever for setup! One con of this kennel could be the width of the octagon isn't enough for multiple dogs to run back and forth, it's more for relaxing comfortably. This is ideal for smaller animals to have fun in unless you're attaching more for bigger dogs (Labradors and up).
Personally, I recommend this one based off of aesthetics alone. It's an eye pleaser and doesn't look like your standard, metal box dog kennel. The bonus of a weatherproof and durable cover makes it even more worthy of the purchase for a small dog!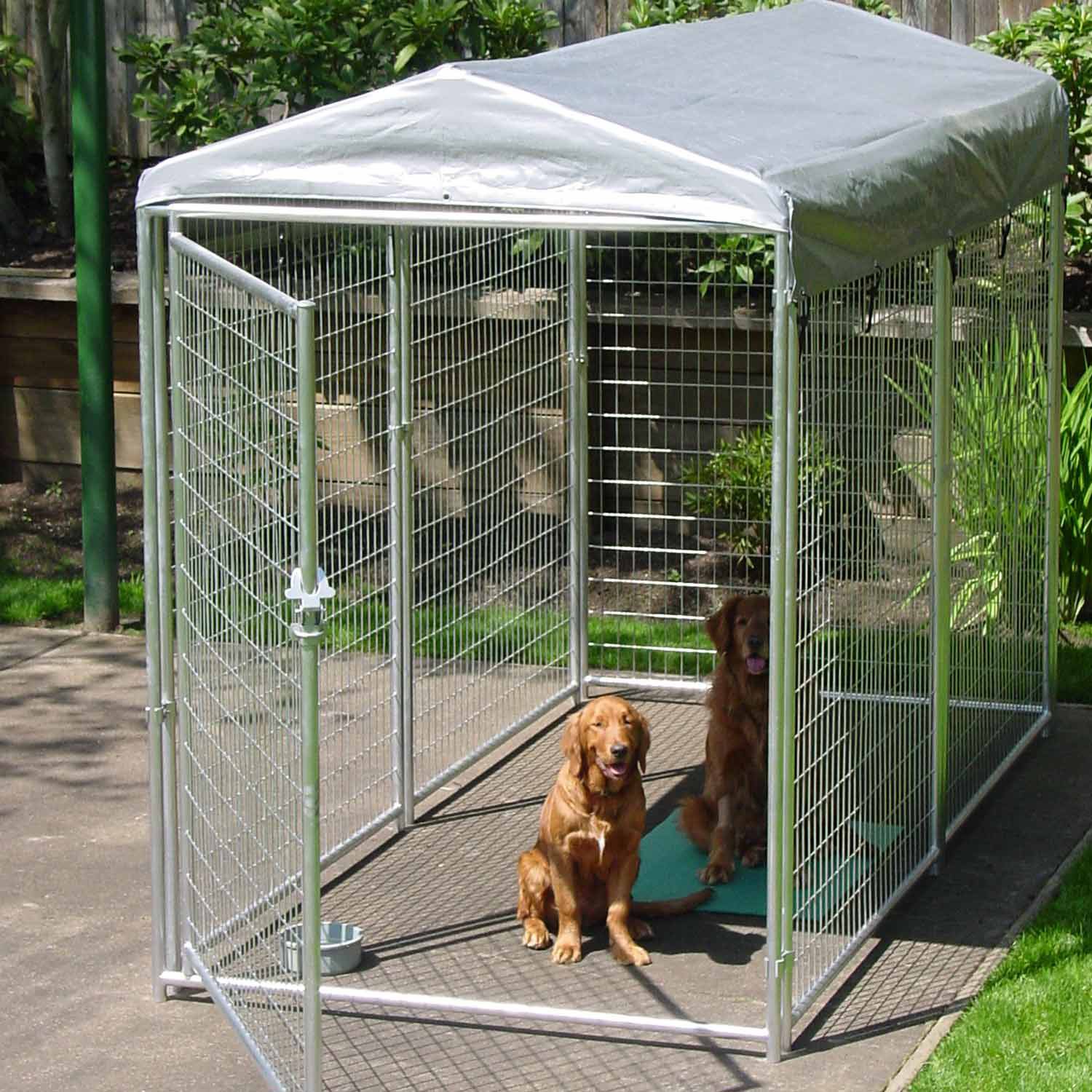 Slightly different in style than our last, this kennel has a roof like the last but constructed out of chain link material. For smaller dogs, this enclosure is perfect for relaxing and eating, but not for running. Even though it's a kennel and we're reviewing "dog run" styled kennels, this is a great dog run for dogs on the smaller end. The measurements of this enclosure come in at 10' H x 5' L x 6' W.
Top Features on this kennel include:
Galvanized steel frame

Extended base legs

Quick connect frame for easy, no tool assembly

Waterproof roof
This one can be placed anywhere, as you don't need to anchor it into the ground. While this gives it added portability, you'll need more than one set of hands to remove it. This is both an advantage and disadvantage.
The galvanized frame is a huge bonus since it acts as an anti-rust, durable foundation for the unanchored kennel. The extended base legs also allow the walls to elevate and become even with one another, so the dog cannot move it quickly or at all. Elevated legs also make for an easy cleanup.
Of course, we couldn't skip over telling you that the assembly is quick and easy! Much like our last product, this one also has a waterproof roof, but it's pretty standard in aesthetics. All defects found within one year of usage is covered by the manufacturer's 1-year warranty.
In comparison with others, this would be an excellent choice for someone who wants a basic kennel design that won't interfere with the curb appeal of their home. It provides quality shelter for an inexpensive price.
With a simple design, the Laurelview Dog Kennel is a basic square, with the 5' x 5' x 5' standard rectangular kennel measurements. This enclosure is durable and has a few basic features.
Top Features include:
Pinch-proof gate

Under 60-minute assembly

SunBlock roof

Door enclosure

Rust resistant coating
The design of this kennel gives the added advantage of extra security for your dog, keeping them safe from dangerous stray animals and harsh weather conditions. Although, we highly recommend taking your pets inside during more stringent conditions. 
Even though many of the products we're reviewing today have a quick assembly, this one takes a little longer, even though it's a simple square. What's great is that it takes less than an hour to complete even with a lack of knowledge in kennel assembly.
During hotter days where you want your pup to get some fresh air and relax, the SunBlock roof will keep them cool and bounce the warmth and light off of it, reflecting it back up. Even when shade doesn't entirely cover the kennel, your pup can remain cool and comfortable thanks to the SunBlock roof. The rust resistant coating is just an added benefit for long term use.
Unfortunately, there isn't a warranty on this particular kennel, but I do recommend this one if you're looking for something that's a little more modern than the standard chain link enclosure, but still simple in comparison with other models.
A combination of our first product and the Laurelview above, the Lucky Dog kennel has extra length for dogs who want to move around or bigger dogs who want to lay comfortably. The measurements of this are 6' x 8' x 4'. For smaller yards, this kennel is perfect. Let's not act like the height is only an added benefit for tall standing dogs – the height is a bonus for when it comes time to clean the kennel. You'll be able to stand up without a problem! (unless you're over 6"!)
Features of the Lucky Dog include:
No tools required

Raised legs

Pre-assembled walls (panels)

Cover frame, waterproof covering
A cover frame for angled roofs is a fantastic feature alone, allowing the structure to hold up well against the weather. On top of this, the cover is waterproof. The walls come preassembled as they're shipped via freight carrier, and this kennel requires no tools whatsoever.
The raised legs are specifically for easy cleaning to promote anti-bacteria within the kennel. Many dog owners fail to realize that their pets can become sick from bacteria build up in this type of situation. The only qualm that there may be with this is the size. While the 8' length is a benefit for many, it's also a drawback for those with a smaller yard or deck.
This kennel also comes with a 1-year warranty like others on this list, but with the design that's posted, I don't believe you'll be sending it back! I highly recommend this based on the square footage alone, allowing larger dogs to spread out more in comparison with other kennels listed. Even for small dogs, this could be a great dog run for them to work off their hyperactivity.
While this dog kennel has a similar name than the last, it's slightly different in color, material, and structure. It is an even longer dog run; this kennel is fantastic for giving your larger dog room to move around in. The measurements come in at 10' L x 5' W x 6' H, and is pricier than any on our list. Even though this may seem like a disadvantage, you're paying for added quality square footage.
Features include:
Marked extremely safe by the American Kennel Club

Quick connect system for optimal setup

Extended base and raised wood flooring

1-year warranty
One of the only cons you may see from the get-go is the lack of a roof. It also is one less piece that needs to be cleaned or fixed in case of staining or harsh weather conditions ripping it.
With this style of the kennel, it's only right if there is a quick connect system to put it into place. Much like others on this list, there are barely to no tools required to put this together. The extended base and raised floor allow easy cleaning without giving your pup a quick getaway option. The only one on our list that is marked super safe by the American Kennel Club, I highly recommend this for larger dogs who love the outdoors, but who need a bit of security on their side.
Wrap-up – My Recommendation
When all is said and done, you need a great dog run that will fit your sized dog and provides them with the appropriate outdoor shelter. From my personal experience, I believe that the top choice on this list goes to the Lucky Dog Box Kennel. Not only is it large, but it offers a simple aesthetic and straightforward assembly for optimal use. It's a fantastic price for the size and is easy to clean versus others on this list. I wouldn't recommend this for small lap dogs, but for everything else, the Lucky Dog Box Kennel is a dog's dream!